about us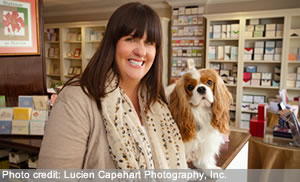 For as long as she can remember Liz Quinn dreamed of owning a stationery store. That may sound odd, but not to her. The excitement of sending and receiving birthday cards or party invitations, whether handmade or store-bought, never got old.
Today, Liz is living that dream as the owner of Stationer on Sunrise in Palm Beach, Florida. She still gets giddy as boxes of new collections arrive. From the timeless elegance and traditional styling of Crane and William Arthur and Arzberger to more modern, whimsical and colorful offerings from Smock, Designer's Fine Press, Bella Figura, Boatman Geller and more, Stationer on Sunrise offers the most extensive selection of stationery and invitations in Palm Beach.
Stationer on Sunrise can also help with every aspect of party and wedding planning, including invitations, save-the-date cards, place cards, menu cards, escort cards and gifts. Brides, hostesses and event planners alike can feel confident they will find everything they need in the shop or through custom orders.
Liz has also carefully chosen an array of hostess and other distinctive gifts for the shop, which can be wrapped and ready for pick-up on a moment's notice.
Stationer on Sunrise understands that its clientele requires a certain level of customer service where convenience and privacy is as appreciated as quality. For larger custom orders of invitations or holiday cards, Liz and her staff will print addresses, stamp envelopes and deliver to the post office.
Liz's professional life, in addition to childhood dreams, has helped shape her approach to running the shop and to customer service. No stranger to retail, Liz has managed boutiques from Worth Avenue to the Hamptons. Prior to that, she had a successful career with The Gap for 10 years. She has also spent time in the non-profit world as a development coordinator for FoundCare, which provides health care services to the uninsured and under-insured in Palm Beach County.